Heart Attack in Bathrooms -- The Sitting Toilet Connection
You might question and wonder why there is a page devoted to heart attack on a website that highlights the benefits of squatting for waste elimination. The answer is related to the research findings of a remarkable Israeli physician, Dr B. A. Sikirov.

Dr Sikirov's Discoveries
More than 20 years ago, Dr Sikirov did several studies on the role of toileting habits and posture in hemorrhoids and diverticulosis cases. In 1987, he published his findings concerning the effectiveness of squatting in clearing up hemorrhoids in 18 out of 20 patients.

(Dr Sikirov's study on squatting and hemorrhoids.)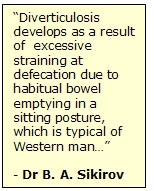 A year later, in 1988, Dr Sikirov wrote an article for Medical Hypothesis ["Etiology and Pathogenesis of Diverticulosis", May 1988, 26(1):17-20] in which he described how straining for bowel movements on a sitting toilet can also cause diverticulosis (box on left).

Sitting Toilets Can Trigger Heart Attacks?
Two years later, in 1990, Dr Sikirov again singled out the Western toilet as a contributing factor in bathroom heart attacks.


Writing in the Medical Hypothesis, Dr Sikirov stated that the same straining which is responsible for hemorrhoids and diverticulosis can also increase the risk of fatal heart attacks in people with weak hearts.

SIDENOTE
==========================================
In his 1987 study on squatting and hemorrhoids, Dr B. A. Sikirov found that the magnitude of straining in a sitting posture is at least three times more than in a squatting posture.
==========================================
The following is the summary of Dr Sikirov's article "Cardio-vascular Events at Defecation: Are They Unavoidable?" [Medical Hypotheses, Jul 1990; 32(3):231-3]:
"Heart attacks which occur during defecation are, in many cases, the result of using the (unnatural) sitting posture for waste elimination.
"Excessive straining, through the use of repeated Valsalva Maneuvers, is needed for emptying the bowels in the sitting position. The Valsalva Maneuver adversely affects the cardio-vascular system, and can cause fainting and death.
"The cardio-vascular system of a healthy man can cope with intensive and repeated straining on a sitting toilet. But with a weakened vascular system, straining on a sitting toilet may result in fainting or even death.
"By squatting for waste elimination, the straining required, if any, is much reduced, which would help prevent many of these tragic (heart attack) cases."

(Abstract of Dr Sikirov's article.)

Although the use of sitting toilets could trigger a heart attack, many people may not be able to do anything about it -- even if they wish to use the squatting position. About one third of humanity who live in the Westernised countries do not have access to squatting toilets.
There are many ways to go around this problem. One practical solution is to use a toilet squatting platform or converter.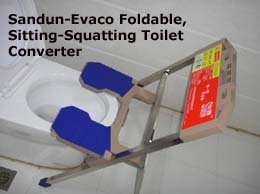 Find Out More...
Special Book Recommendation
If you are interested to know more about the connection between toileting posture and health, I like to recommend that you read
Nature Knows Best
.
Nature Knows Best is the first and only book in print today that discusses the benefits of squatting and exposes the ugly truth about sitting toilets.
You can find out more about Nature Knows Best by visiting this page.



Go from Heart Attack to Home Page
Have A Great Story About This Topic?
Do you have a personal account about the topic discussed on this page? Please consider sharing it. You can be sure that many people in the world would love to read about and greatly benefit from your experience. It's easy to do. Just let your words flow. Thanks for sharing!
What Other Visitors Have Said
Click below to see contributions from other visitors to this page...