The Causes of Constipation …
What Doctors Had Missed
Constipation is difficulty in passing stools. There are many causes of constipation.
Most are well known -- except for one which may come as a surprise to you: the Western habit of sitting for waste elimination.
Put in another way, the sitting toilet is one of the root causes of constipation.
It is also the reason why constipation is such a common ailment in Westernised countries, and why it affects almost everyone at some point or another in life.
In America alone -- where squatting toilets are practically non-existent -- more than 4.5 million people are troubled by frequent constipation.
Many who suffer from constipation not only find bowel movements to be difficult and painful, but often experience bloating and a feeling of incomplete evacuation.

The Commonly Known Causes of Constipation, and The Real One That Many Have Ignored
As mentioned, there are many possible causes of constipation. Except for one (sitting toilets), the others are well known:
1. Not drinking enough liquids
2. Not having enough fibre in the diet
3. Frequently ignoring the urge to move the bowels
4. Lack of physical activity
5. Medications and laxatives
6. Changes in life or routine
7. Specific diseases or conditions of the colon system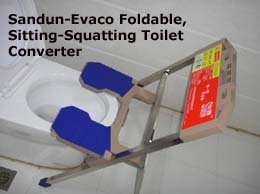 Find Out More...

The Sitting Toilet Connection
You may be surprised to hear that the use of sitting toilets is one of the causes of constipation.
But it's true.
Human beings are designed to evacuate waste in the squatting position. By forcing users to sit, the sitting toilet does not fulfill the natural requirements for proper waste elimination, and is the root cause of constipation and other colon ailments and diseases such as appendicitis, hemorrhoids and colon cancer.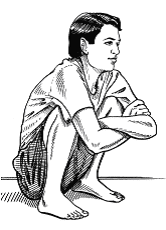 If the early toilet inventors understood how the human body works, they would have done things differently. They would designed toilets that require users to squat, instead of sit.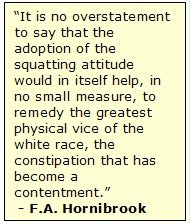 But the toilet inventors didn't know. These engineering minds did not have any knowledge of the working of the human anatomy.
In the end, they did what they did, and the rest is history... the sitting toilet they invented became widespread, and is now the toilet of choice, even in countries whose peoples have traditionally been squatting populations.
Most health authorities and the medical establishment have also failed in their duty by being ignorant or keeping quiet about the health threat posed by sitting toilets.
The silence on this subject is especially tragic, considering that many doctors and health experts have already known and written extensively about the connection between sitting toilets and constipation.

The lack of knowledge on the real cause of constipation is one of the reasons why the suffering caused by constipation and other toilet-related health problems will only increase.
You don't have to let this happen.
By making minor changes in diet and lifestyle -- eating more whole grains, fruits and vegetables, drinking plenty of water and physical exercise -- AND choosing to squat for your bowel movements, you can prevent constipation.

(More information on how squatting can prevent and cure constipation...)

Interesting Survey on Constipation
Surveys done on constipation have revealed several interesting facts:
In South Africa, constipation is more common among white people than black people
In America, black people suffer from constipation more than white people
Constipation is not very common amongst Asians, but increases sharply when they adopt a western diet
The researchers concluded that the human digestive system has evolved over a long period of time, adapting to particular types of food and other cultural and environmental lifestyles. When these are changed, the system cannot cope with it immediately, and this results in constipation.
Did you noticed what the researchers missed? It was right under their noses. The researchers could have easily identified the cause of constipation if they had taken into account the toileting posture of those surveyed:
1. In South Africa, constipation is more common among white people (sitting) than black people (who, in Africa, squat)
2. In America, black people (who, in America, sit) suffer from constipation more than white people (sitting)

3. Constipation is not very common among Asians (who traditionally squat), but increases sharply when they adopt a Western diet (when they migrate and settle in the West; they also change their toileting posture from squatting to sitting)
It's amazing, isn't it, when you connect the dots and discover the link between toileting posture and constipation?

If You Are Having Problems with Constipation
If you are having chronic constipation, do consider taking some natural, safe constipation formulas to reduce further toxicity of your colon and body. For high quality ones at good prices, I recommend that you buy them from iHerb.

(You can get a instant $5 discount on your first iHerb order by entering this code in the shopping cart, before checkout: HEW040.)


What You Can Do - Long Term?
But make the decision to squat for your bowel movements. As you've learnt, the use of the sitting posture for defecation is one of the major causes of constipation.
If you've been using sitting toilets all your life, you probably may not be able to squat easily. The reason for this is explained in this page on squatting facets.
However, with some practice, slowly at first, and doing it more often, you would soon be able to squat again.
This would allow you to make the switch from sitting to squatting, using one of the several options as described on this page.

However, for those who do not have any squatting toilets at home, the ideal solution would be to use a toilet squatting platform or converter.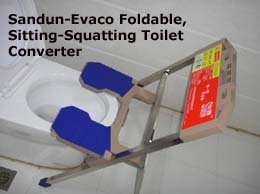 Find Out More...
---
Further Reading
Article on Constipation and Cancer - A Lesson from the Navajo


---
Have A Great Story About This Topic?
Do you have a personal account about the topic discussed on this page? Please consider sharing it. You can be sure that many people in the world would love to read about and greatly benefit from your experience. It's easy to do. Just let your words flow. Thanks for sharing!
What Other Visitors Have Said
Click below to see contributions from other visitors to this page...

Squatting Theory

Not to be rude, but I think the squatting theory is ludicrous. The Western diet tends to be overloaded with white flour, which completely clogs the …
Just Surfed In...Valsalva Maneuver Not rated yet
This is a fascinating article! I was just looking up the Valsalva manoever when this appeared! I will make a copy and give it to my gastroenterologist. …
Go from Causes of Constipation to Home Page.


P.S. You need to be in good physical condition in order to be able to squat easily and comfortably. You can watch some helpful exercise routines on this website.