GERD (Gastro-Esophageal Reflux Disease) and Hiatus Hernia
Gastro-esophageal reflux disease, or GERD, is a condition in which digestive acids in the stomach leak into the esophagus.
It is often associated with hiatus hernia (or hiatal hernia), which occurs when the upper part of the stomach bulges through a tear or weakness in the diaphragm into the chest cavity.
The location and position of esophagus, diaphragm and stomach can be seen in the diagram below.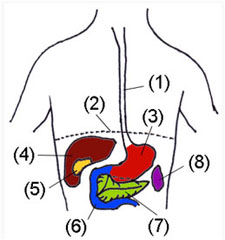 1 - Esophagus (gullet)
2 - Diaphragm
3 - Stomach


The Sitting Toilet Connection
In his article, "Hiatus hernia: Is It Preventable?" in the Mar 1981 edition of American Journal of Clinical Nutrition, British physician Dr Denis Burkitt wrote of the connection between hiatus hernia and Western (sitting) toilets.
He came to this conclusion based on the higher abdominal pressures arising from sitting -- as compared with squatting -- for waste evacuation and his research:
"Hiatus hernia has its maximum prevalence in economically developed communities in North America and Western Europe. Very large series of upper gastrointestinal tract radiological examinations indicate that this defect can be demonstrated in over 20% of North American adults [of all races].

In contrast, the disease is rare in situations typified by rural African communities. In a careful prospective radiological study of the upper gastrointestinal tract in Nigerians, hiatus hernia was detected in only four of 1030. In Kenya, only one case was found in over 1000 barium meal examinations and in Tanzania, one in over 700 barium studies."
Dr Denis Burkitt was not the only one who had identified the sitting toilet as health hazard and cause of hiatus hernia (and other diseases of the colon).
In 1999, Dr Stephen Sontag, a gastroenterologist, also blamed the Western (sitting) toilet as the main cause of GERD. In his paper, "Defining GERD," in the Mar-Jun 1999 edition of Yale Journal of Biology and Medicine, Dr Sontag explained why and how the using sitting toilets could result in the disease:
"The anti-reflux barrier in children and adults is gradually weakened over time as a result of chronic straining to defecate and straining in an unphysiologic position, both of which stem from our modern day habits of eating a low-fiber diet and living on the high-seated toilet. We suggest that the chronic traumatic hiatal hernia is:

a) The cause of more than 90% of gastro-esophageal reflux disease that stalks the Western world;

b) A direct result of abandoning the popular and worldwide practice of squatting to socialize, eat and defecate; and

c) Our just reward for adopting the "civilized" high sitting position on chairs and modern toilets."
Dr Sontag's article can be found on this
page
.
Is There Anything That You Can Do About It?
A good way to lower the your risk of GERD and hiatus hernia would be to stop using sitting toilets. If you do not have any squatting toilet at home, an easy way would be to get a toilet squatting platform or converter.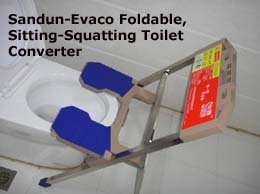 Find Out More...
Go from GERD and Hiatus Hernia to Home Page
Have A Great Story About This Topic?
Do you have a personal account about the topic discussed on this page? Please consider sharing it. You can be sure that many people in the world would love to read about and greatly benefit from your experience. It's easy to do. Just let your words flow. Thanks for sharing!
What Other Visitors Have Said
Click below to see contributions from other visitors to this page...

I think this actually works Not rated yet
Here is my story. Back in 9th grade, I had a chronic cough that I think was caused by GERD, due to straining a lot on the toilet. After about a year, …