Sandun-Evaco Toilet Converter
The Only Patented, Foldable,
Factory-Built Stainless Steel
Toilet Converter in The World Today!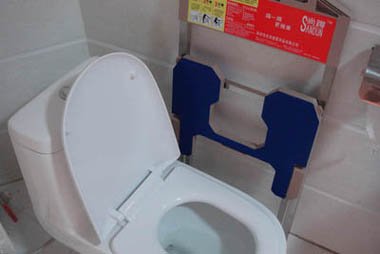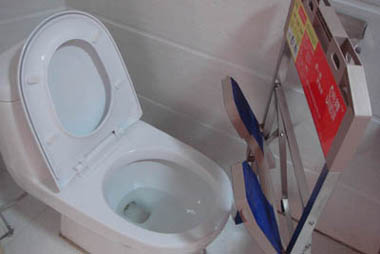 The result of two years of intensive research, the Sandun-Evaco foldable sitting-to-squatting toilet converter (Patent: ZL200920181328.2) is ideal for those who have sitting toilets but would like to squat for waste elimination.

It offers the following superior benefits and features:
1. Enables you to overcome the health hazards posed by sitting toilets
(click here for details).
===Sidebar===
There are other products in the market, eg: squatting stools, which merely elevate the knees. They don't come cheap; but what many don't realise is that they do not provide you with the full benefits of the natural, authentic squatting position. Here's the reason why...
============
2. Can be used with all sitting toilets, irrespective of their height and width (click here for details)
3. Foldable design makes it easy to set up, stow away and transport
4. Does not come into contact with sitting toilet when in use (hence no stress or risk of damage)
5. Light, rustproof, safe, robust and stable
6. Slight forward sloping angle of non-slip foot pads makes squatting more effortless and comfortable
7. Unique design allows the use of both hands to gain extra support and balance
8. An affordable, one-time investment that gives immediate payback -- you will experience easier, quicker and more complete elimination -- and a lifetime of health benefits (better skin, flatter abdomen, reduced toxicity, better mental clarity and reduced risk of disease as a result of a cleaner and healthier colon)

---
---
Specifications and Materials
1. Stainless steel

2. ABS plastics

3. Non-slip, silicone gel foot pads

4. Overall height: 98 cm

5. Width: 45 cm

6. Nett weight: 4.5 kg

7. Loading capacity: 120 kg


Video On Origin and Story of The Sandun-Evaco Toilet Converter (1 min 25 seconds)
Instructions for Use (Step-By-Step)

1. Lift up toilet seat. Unfold and position toilet converter in front of toilet as shown. 
2. Stand on the right (or left) side. Grip the top with both hands for support and balance. Place one foot on non-slip foot pad.


3. Place the other foot on the other non-slip foot pad and adopt the squatting position. (After emptying the bowels, you come down from the toilet converter by placing your feet – one foot at a time – on the floor.)


---
---
Instructions for Use (Video) (1 min 25 seconds) 


Pricing
(Click here to understand the need for 2 different versions and pricing.)
Standard model (for toilets up to 39.0 cm in height)
The price of the standard Sandun-Evaco toilet converter is US$97.90.
Customised model (for toilets above 39.0 cm in height)
The price of a customised Sandun-Evaco toilet converter is US$117.90.
[Click here to find out the price in another currency.]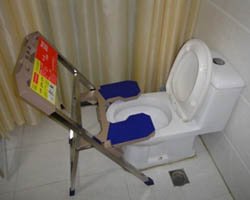 Shipping, Handling and Delivery
| | | |
| --- | --- | --- |
| Country | Shipping & handling | Delivery |
| America | US$79 | 5 to 9 days |
| India, Pakistan, Bangladesh, Laos, Nepal, Sri Lanka, Turkey | US$99 | 8 to 10 days |
| Australia, New Zealand, Papua New Guinea | US$79 | 6 to 9 days |


IMPORTANT - before going any further, please read the following 'Return Policy and Guarantee' and 'Terms and Conditions for Sale of Product'

Return Policy and Guarantee

Please click here to read about the details of our return policy and guarantee.

Terms and Conditions for Sale of Product
Please see the here to read, agree with and accept the terms and conditions of sale.
About these Terms and Conditions

We thank you for your understanding in this matter, as we do continue in our mission to help as many people to have the ability and means to squat for waste elimination -- without the need for squatting toilets.
Order - Instructions   

First measure and confirm the height of your sitting toilet (from floor to top of the toilet bowl, with seat lifted up). (Click here to review.)

If your toilet is up to 39.0 cm in height, choose the first pricing option. If your toilet is 39.0 cm or higher, choose the second pricing option and also remember to indicate the actual toilet height, eg: 41.5 cm.
Please provide your contact number as well; our logistics partner delivering your toilet converter needs this information.
Thank you for your order -- and your agreement to the terms and conditions concerning its use. I look forward to be of service in helping you and your loved ones achieve good health through easy, effective and complete elimination as intended by nature.




Founder
www.toilet-related-ailments.com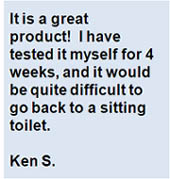 P.S. If your country is not included in the list, please write to us using the contact form. We will do our best to get one to you.
P.P.S. There is no doubt that squatting is the best toilet posture. Countless people have attested to this. Gene is just one of them; you can read about his discovery and experience with squatting on this page. Act on this information right away -- order your Sandun-Evaco toilet converter today!

---
NOTE: ALL PRICES INDICATED BELOW ARE TOTAL NETT PRICES WHICH INCLUDE INTERNATIONAL DOOR-TO-DOOR DELIVERY BY FEDEX OR DHL
---
---
---

Aside from Paypal, we also accept Bitcoins 
Please contact us to pay using Bitcoin
Roughly from 0.41163 to 0.45814
---
You can also use Transferwise to pay for your order.  
Please contact us for details on how to pay by Transferwise
---
United States of America (5-9 days)
---
Britain, Canada, Ireland, Germany, Austria, Spain, Denmark, Finland, France, Norway, Luxembourg, Italy, Switzerland, Sweden, Belgium, Portugal, Greece (7-10 days)
---
India, Pakistan, Bangladesh, Laos, Nepal, Sri Lanka, Turkey (8-10 days)
---
Australia, New Zealand, Papua New Guinea (6-9 days)
---
Japan, South Korea, Indonesia, Philippines, Malaysia, Thailand, Vietnam, Brunei, Cambodia, Mongolia, North Korea (5-11 days)
---
Singapore (5-8 days)
---
Taiwan, Hong Kong, Macau (3-4 days)
---
South Africa (6-9 days)
---
Argentina, Brazil, Colombia, Cuba, Guyana, Hungary, Israel, Jordan, Mexico, Panama, Poland, Peru, Russia, United Arab Emirates (UAE), Ukraine (11-12 days)
---
Oman, Egypt, Ethiopia, Estonia, Bahrain, Bulgaria, Botswana, Iran, Congo, Ghana, Nigeria, Qatar, Cayman Islands, Kuwait, Kenya, Latvia, Romania, Morocco, Cyprus, Saudi Arabia, Syria, Croatia (10-20 days)
---

Go from Sandun-Evaco Toilet Converter to Home Page



---