Toilet Squatting Platform - You Can Now Squat, Even With Sitting Toilets
Do you need a toilet squatting platform?
Check out the Next-Generation Evaco Squatting Platform...
It depends on your situation...
There is nothing better than a squatting toilet for waste elimination. With a squatting toilet, you can quickly get down to the squatting position. Aside from the health benefits, a squatting toilet is also easier to clean and maintain.
However, for many, having a squat toilet installed is an uphill if not impossible task...
If you live in the West, you may not even be able to find or buy one. There are also many other issues to contend with, such as compliance with building codes and regulations, prohibitive installation costs, opposition by family members, etc.
If this is the case, using a toilet squatting platform may be the best solution.

SIDENOTE
==========================================
You must be must be in good physical condition, able to adopt the squatting position, not suffer from fainting spells or have a poor sense of balance before using a toilet squatting platform.
==========================================


The Evaco toilet squatting platform fits standard sitting toilets up to 41 cm or 16.2 inches in height (floor to top of toilet bowl, with seat cover lifted up as shown in diagram), and 42 cm or 16.5 inches wide.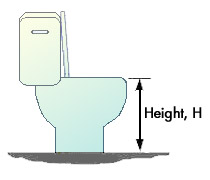 ---
The following photos and video show how it can enable you to squat over a sitting toilet.

Using The Evaco Toilet Squatting Platform
(Note: All clothing from the waist downwards
to be removed before mounting the platform)
| | | |
| --- | --- | --- |
| | | |
| 1) Stand with your back to the toilet squatting platform (and sitting toilet) | 2) Bend your knees slightly, and put your right hand on top of the platform | 3) Lift and place your left foot on the platform |
| | | |
| --- | --- | --- |
| | | |
| 4) Place your right hand on the platform, lean back slightly and then lift up and place your right foot on the platform | 5) The squatting position... the best posture for waste evacuation - as intended by Nature | 6) To get off, place your right hand on the platform, and put your feet - one at a time - on the floor |
(Click on the Play button to see how easy it is.)
For more information about the Evaco toilet squatting platform, including pricing and delivery, you can go to the Order Page.

However, if you're not sure whether it can meet your needs or want to learn more about it, please contact me below.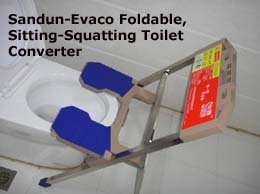 Find Out More...
Order Page for Evaco Toilet Squatting Platform

Go to Home Page