Even though you want to protect
yourself against the risk of colon,
bladder and pelvic diseases
associated with sitting toilets,
chances are there is nothing
you can do about it...
In a world where the
sitting toilet is king, the
trouble and expense of getting
a squatting toilet is enough
to put most people off
The ridicule, strange looks and
opposition from those close to you...
The hassle of getting
approvals (if you can get them)...
Messy, extensive and
costly renovations…
Yet, for those who wants to squat
-- and enjoy all its health benefits --
there is another way....
a quick, neat and simple solution
With an Evaco toilet squatting platform, you can 'convert' your sitting toilet into a squatting one.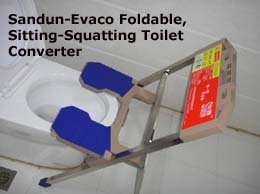 Find Out More...
The Evaco toilet squatting platform -- the next best thing to a real squatting toilet
Quick and easy assembly...

No need for any tools or special skills...

Light and portable (just 6 kg), yet strong and stable

Quick, hassle-free installation

Just lift up your toilet seat cover, move the squatting platform into position for immediate use
Features and Benefits
1) No need for any changes to your toilet or plumbing; fits all standard sitting toilets up to 41 cm or 16.2 inches in height (seat cover lifted up, as shown in this diagram) and 42 cm or 16.5 inches in width (the toilet bowl itself).

2) Easy to set up, install in seconds
3) Does come into contact with or impose any stress on your sitting toilet. No need for expensive construction and plumbing works
4) Stainless steel frame and water, scratch and stain-resistant high-pressure laminate platform ensure years of trouble-free service
5) Strong, stable and safe to use; easily supports up to 120 kg
6) A one-time investment that will allow you to enjoy all the health benefits of squatting for a lifetime.

Feedback and Comment By Satisfied Customer
"You may want to know that the first squatting platform you sold me in Penang is holding up well in the Asian climate after almost 3 years, with no stains or rust, and no perceptible wear and tear. Good product!"
Dr Ng, W
United Kingdom
17 Apr 2008
Use of Evaco Squatting Platform
Remove all clothing from waist downwards


Adopt squatting position, as shown in this video clip
(click on the Play button to view)
About Squatting and Toilet Squatting Platforms
---
I am thankful that there is actually such a simple solution to building health through proper and total elimination of waste.
Serious hemorrhoids plagued my health after I delivered my eldest son. I believe that if I had known about the Evaco toilet squatting platform, my problems would have been solved much earlier.
-- Mrs Rebecca Ngui, Singapore
---
I am using the toilet squat platform I bought from you and it has served me and my family very well...
I think I am one of a tiny few in this country using a toilet squatting platform to defecate - although, of course, there are many Africans and Asians living here who squat on western toilet bowls, which seems highly uncomfortable if not dangerous...
-- Wilson Ng, London, UK
---
Want to see a modern tragedy? Go look at your toilet seat. The worst thing for long-term health happens while sitting instead of squatting in the bathroom.
Why do so many of us suffer from constipation, heartburn, low back pain, hernias, hemorroids, colon cancers, and overeating due to misabsorption of nutrients? The answer is our ridiculous insistence upon 'civility' on the toilet, which stagnates our natural 'sewer system'.
-- Steve Ilg, Author/World-Class Athlete/Yoga Teacher
---

I grew up in a Muslim society, where squatting toilets are quite common. However, a few years ago, I moved to a Scandinavian country. I found that using a chair pan is not so comfortable for me. As a 'solution', I used to squat on the pan's seat.
However, recently I moved to a new apartment and decided to buy the Evaco Squat Platform (shown fitted to my toilet).
Many words could be said about benefits of squatting for defecation, but the best is your own experience. Just try it for a while, and your body will tell you more than what a thousand words can!
-- Hasan Agha, Sweden

---
I have always been told that the proper way to eliminate is by squatting. This is the reason why our ancestors did not developed the numerous diseases that plague our body (via the colon) today.
-- Dr Akilah El, ND PhD, Naturopathic Doctor
---
Design and Construction of Evaco Squatting Platform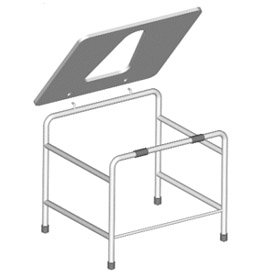 The Evaco Squat Platform measures 51 cm x 46 cm x 43 cm (height), ie: 20 inches x 18 inches x 17 inches (height).
It can be used with all standard sitting toilets which is up to 41 cm or 16.2 inches high, as measured from the floor to the top of the bowl -- with the seat cover lifted up.)
It is built with quality materials. The platform is made of 12 mm thick (0.5 inches) biege color high pressure laminate, which is extremely strong and water, chemical and scratch-resistant. The frame and legs are made of 19 mm (0.8 inches) diameter stainless steel tubing.
Bottomline: the Evaco toilet squatting platform is built to last and will enable you to adopt the natural squatting position safely and comfortably for many years to come.


Place Order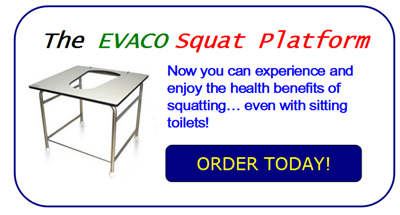 Have Questions about The Evaco Toilet Squatting Platform?
If you have any questions about the Evaco toilet squatting platform, I would be happy to answer them for you. You can write to me via the form below.



Go from Evaco Toilet Squatting Platform to Home Page