Sit Squat Toilet
A sit squat toilet, as the name implies, is a toilet that allows one to either sit or squat for waste elimination.
You cannot find sit squat toilets in use today. However, if Singapore inventor Ernest Goh has his way, they might become a reality in future.
His sit squat toilet is intended for use in new as well as existing homes. Compatible with existing sanitary systems, the sit squat toilet he is working on is designed for easy installation, with no need for hacking of floors. It can be fitted over the existing waste outlet, sealed up and bolted to the floor.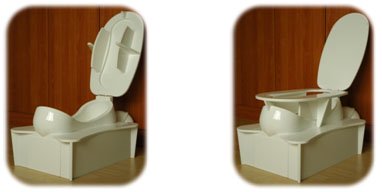 To allow for squatting, the toilet seat is lifted upwards. To sit, one just had to put the seat downwards.

If you wish to find out more about the sit squat toilet, please drop me a note and I will put you in touch with its inventor, E. Goh.


Go from Sit Squat Toilet to Home Page