Toilet Sizes and Dimensions
Toilet Specifications
Sitting toilets come in different designs and sizes. However, they can be divided into 2 broad categories:
1. Those with a height (H) of up to 39.0 cm (measured from floor to the top of the toilet bowl with the seat lifted up).
2. Those with a height of above 39.0 cm.
The majority of sitting toilets fall under the first category, ie: from 34.0 cm to 39.0 cm. (Sitting toilets that fall under the second category can be as high as 45.0 cm.)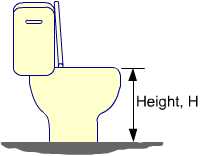 To enable everyone to enjoy the benefits of squatting, we have decided to offer 2 versions of the Sandun-Evaco toilet converter:
1. Standard production model for sitting toilets up to 39.0 cm in height.
2. Customised sets for sitting toilets above 39.0 cm in height.
As customized sets would require some tooling changes, additional time and effort, their price is US$20 more than the price of standard production models.
What about toilet width?
The width of standard sitting toilets ranges from 36 cm to 42 cm. With the Sandun-Evaco toilet converter, toilet width is not a concern. It can be used with sitting toilets of different widths.


Go from Toilet Sizes and Dimensions to Home Page