Fascinating Facts About Appendicitis and Appendectomy
Most people would assume that appendicitis and appendectomy have always been with us.
Not true.
Appendicitis actually emerged only recently, coinciding with the introduction of sitting toilets toward the end of the 19th century (the years 1800-1899).
In fact, appendicitis as we know it today didn't even have a name until in 1886, when Reginald Heber Fitz, a Harvard Professor of Pathological Anatomy, became the first doctor to recognize and name the disease.
Professor Fitz was also the first one propose treating it by removing the appendix - appendectomy.
The new appendectomy procedure was used in 1901 to save the Prince of Wales, Albert Edward. Prince Edward underwent an emergency appendectomy, just two weeks before his scheduled coronation as King Edward VII.
His successful recovery convinced British - and Western - surgeons that this operation was the only way to save the victims of this "mysterious" new disease.
Yet, ironically, Dr. Frederick Treves, who had performed the appendectomy and later knighted for his service, lost his own daughter to appendicitis. Despite being highly skilled at surgery, he had no idea what causes the disease, or how to prevent it.
Unfortunately, Western gastroenterologists have never made the connection between toilet posture and appendicitis. If sitting toilets don't exist, appendicitis and appendectomy would be unheard of.
Unfortunately, this is not the case today, with widespread proliferation and use of sitting toilets in the world today.
Changing Your Toileting Posture
But there is something that you can do to keep appendicitis at bay. You can change your toileting posture, simply by using a toilet converter.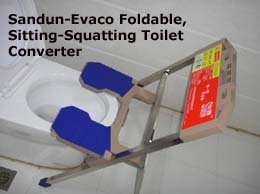 Find Out More...
Close This Appendicitis and Appendectomy Page
Go to Home Page
Have A Great Story About This Topic?
Do you have a personal account about the topic discussed on this page? Please consider sharing it. You can be sure that many people in the world would love to read about and greatly benefit from your experience. It's easy to do. Just let your words flow. Thanks for sharing!